Using Bogus Framework to create good sample data in .Net Core
Whenever you create a unittest or just need some sample data, you probably begin by making up a couple of values. Your test UI-screen looks nice, everything is lined up perfectly fine. And then when your program goes live, one user has a really long name and another one has a name with a diacritic (you know e.g. a ç) and your UI looks weird.
No worries, you fix that case and even think of another one in the progress. Suddenly you have written out quite some lines of sample data and how many cases did you miss? Do you maybe need more?
Enter Bogus Framework: a framework specifically designed to create sample data. And the great part is: it's very easy to use.
In this small tutorial, I will show in a few steps how you can easily get realistic locale-specific sample data in your .net core program with a few lines of code and Bogus.
So let's start by creating a new .net core application.
1. Pick "Create a new project" in Visual Studio. I used Visual Studio 2019 Preview, but you could use any IDE.

2. Go for Console App (.NET Core) and click next.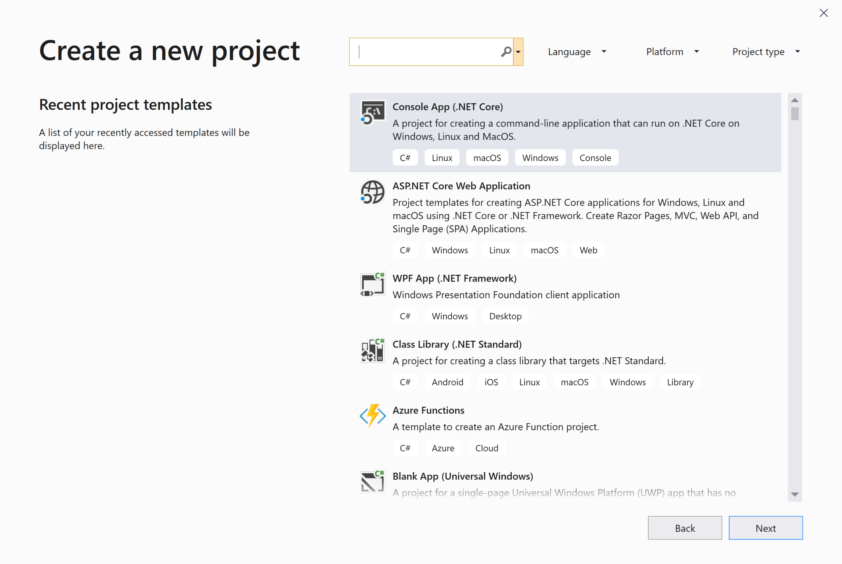 3. Pick a name for your Console App - I chose BogusDemo.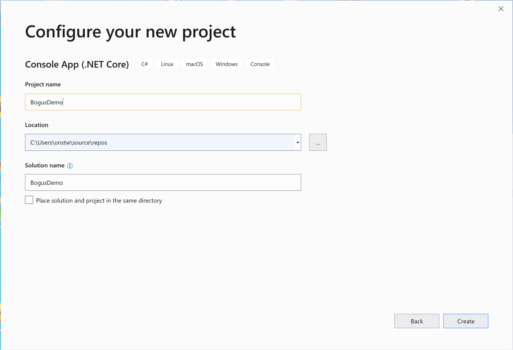 4. Wait for the solution and project to be created and right click on the project / dependencies and click "Manage NuGet Packages ..."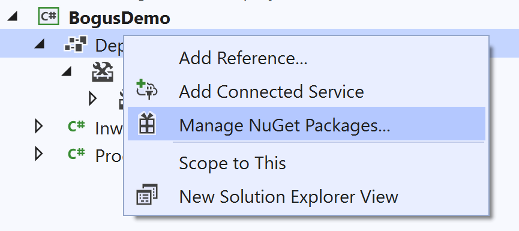 5. Now search for Bogus and install the package
6. And when this is done, lets add some code. First of let's create a resident class in the file Resident.cs
using

 

System

;


                

using

 

System

.

Collections

.

Generic

;


                

using

 

System

.

Text

;


                 
                

namespace

 

BogusDemo


                

{


                    

public

 

class

 

Resident


                    

{


                        

public

 

string

 

Name

 

{

 

get

;

 

set

;

 

}


                        

public

 

string

 

Id

 

{

 

get

;

 

set

;

 

}


                        

public

 

string

 

Street

 

{

 

get

;

 

set

;

 

}


                        

public

 

string

 

Housenumber

 

{

 

get

;

 

set

;

 

}


                        
                        

public

 

string

 

City

 

{

 

get

;

 

set

;

 

}


                 
                        

public

 

void

 

Print

()


                        

{


                            

Console

.

WriteLine

(

$"

{

Name

}

	

{

Street

}

	

{

Housenumber

}

	

{

City

}

	

{

Id

}

"

);


                        

}


                    

}


                

}


                
7. Now adjust the program.cs file into the following:
using

 

Bogus

;


                    

using

 

System

;


                     
                    

namespace

 

BogusDemo


                    

{


                        

class

 

Program


                        

{


                            

static

 

void

 

Main

(

string

[]

 

args

)


                            

{


                     
                                

var

 

resident

 

=

 

new

 

Resident

 

{

 

Name

 

=

 

"Jan van Bommelen"

,

 

Street

 

=

 

"Rijksweg"

,

 

Housenumber

 

=

 

"3"

,

 

City

 

=

 

"AAAA"

 

};


                                

resident

.

Print

();


                     
                                

Console

.

ReadLine

();


                            

}


                        

}


                     
                    

}
If you'd run the above - there is no Bogus magic happening yet. There is just one resident created with made up values. On purpose I chose a City name that's just a display of lack of creativity. Also I figured it would be nice to use a Dutch name and address. If you run this program, by pressing F5, you will see:
| | | | |
| --- | --- | --- | --- |
| Jan van Bommelen | Rijksweg | 3 | AAAA |